Description
NOTE: Australia, New Zealand, Global Customers. We will match or beat all brands' especially for OEM, volume, project, distibutors long term Cooperation. Email Official Sales Channel on admin@patsig.com.au today!

LED Signal Tower Light for IT, Machines & Facilities
LR6 IP65 60mm Diameter Direct TOP mounting option

Our next generation signal tower line featuring cutting-edge technology, modular segments for field configuration, and a wide-array of options to fit the most challenging applications. Wall Mount, Pole Mount L bracket, Pole Mount Flat Bracket Optional* Price Varies.
Product Features
Re-designed lens and improved module construction delivering bright, even light for visibility from further distances. (2000mcd output
Re-engineered, completely enclosed sound module, maintaining substantial water and dust protection while producing loud, omni-directional sound. (A modular, "Twist and Lock", system to easily reconfigure LED and sound modules after install)
A sleek, smooth form factor and an enhanced body construction for performance in harsh environments. (IP65 protection rating)
Available in DC24V and AC100-240V
Available in Off-white and Silver bodies
M12 connector, ½"NPT or 30mm through-hole mounting option (LR6-WC type). Click

 

here

 

for more details.
IP69K conformity when ½" NPT pipe (LR6-WC type)
Multi-color LED module available (7 colors in one: red, amber, green, blue, light blue, purple, and white) Part Number: LR6-E-MZ. Click here

 

for more details.
Four mounting options: Direct, pole with L-bracket, pole with circular bracket, and pole with folding bracket (Off-white only)
Available with Clear lens (special order)
LR Series Video Instructions
Accessory Options
 SZK-004W
Wall-mount Bracket

SZK-003W/U/K

SZQ-001W
Angle Bracket
SZP-003W/U/K
Circular Bracket

SZP-001W
Circular Multi-pitch Bracket

SZK-001U
Wall-mount Bracket

 


POLE22-N
Pole

POLE22-T
Pole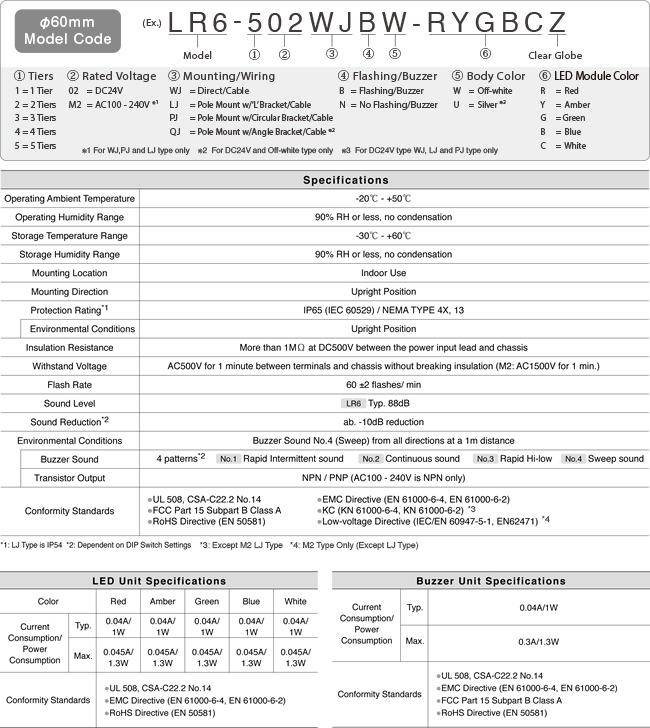 Payment & Security
Your payment information is processed securely. We do not store credit card details nor have access to your credit card information.