Being Stuck in front of a monitor or screen to watch out for critical alert status can be exhausting for staff. Alleviate the stress, be on tp of OH&S, whilst never missing Critical Alert Status with Patlite SignalFx Network Application Alert System.
World's First & Only Microsoft AZURE Cloud Gateway LED Signal Tower Light with Built-in Quick Connect Bridge Terminal, Cloud Application Monitorng Function, and Custom Voice Alert Options. Bi-lateral Data to and from Cloud, network servers, compatible with hardware or any vendors software, IT, IoT, MES, ERP, Security, Surveillance, Network Monitoring, IDS, Custom Apps, Cloud Apps,  and much more!
Combine the Power of Microsoft AZURE IoT Central with PATLITE IoT NHL-3FV2W Signal Tower System.
Microsoft AZURE IoT Certified NHL-3FV2W Cloud Gateway with Cloud Application Monitoring + IO Terminal Inputs / non-IoT Signal Input, capture data and send to your SaaS, PaaS Cloud apps or devices + External LED and Audio Warning Functionality to ease the physical monitoring burden for your operators and managers!
Ease the operators and managers burden dramatically, through active device and application monitoring and wall mounted LED Multi Colour and MP3 Custom Voice messages of Critical alerts from SaaS PaaS Application or IoT devices, as well as non-IoT devices such as surveillance systems, push buttons, sensors via its on board Digital IO Terminal Inputs.  Bi-Directional data in and out functionality with Active monitoring of upto 16 devices.
Virtually Plug & Play with preloaded parameters to eliminate complex coding, with full remote access over the network or the internet the NHL-3FV2W or NHP-3FV2W increased response time dramatically, and of course reduced potential loss.
click here to verify other protocols to see if it's the right fit for you.
Cloud Application Monitoring Signal Tower

Connects directly to Azure cloud services without external devices or gateways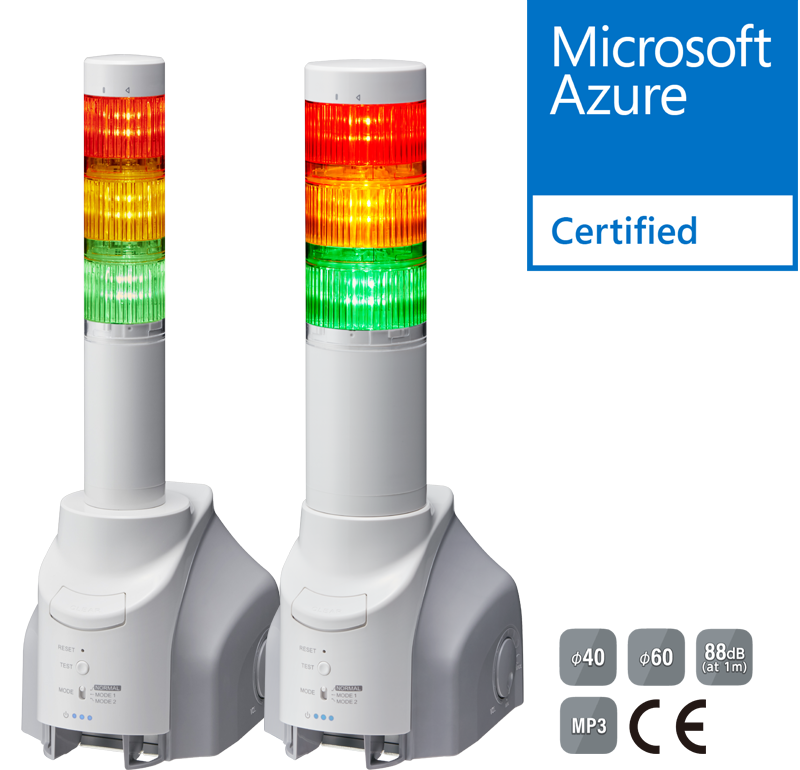 Effortless Device Setup

The digital inputs on the NH-3FV2W allows users to link devices not compatible with the cloud.
The Azure Device Template allows users to easily configure user-specific parameters and other properties of the NH-3FV2W.
Reliable and Accessible

The Azure IoT Central is a highly secure platform that enables remote device management and data collection.
Seamless Azure Integration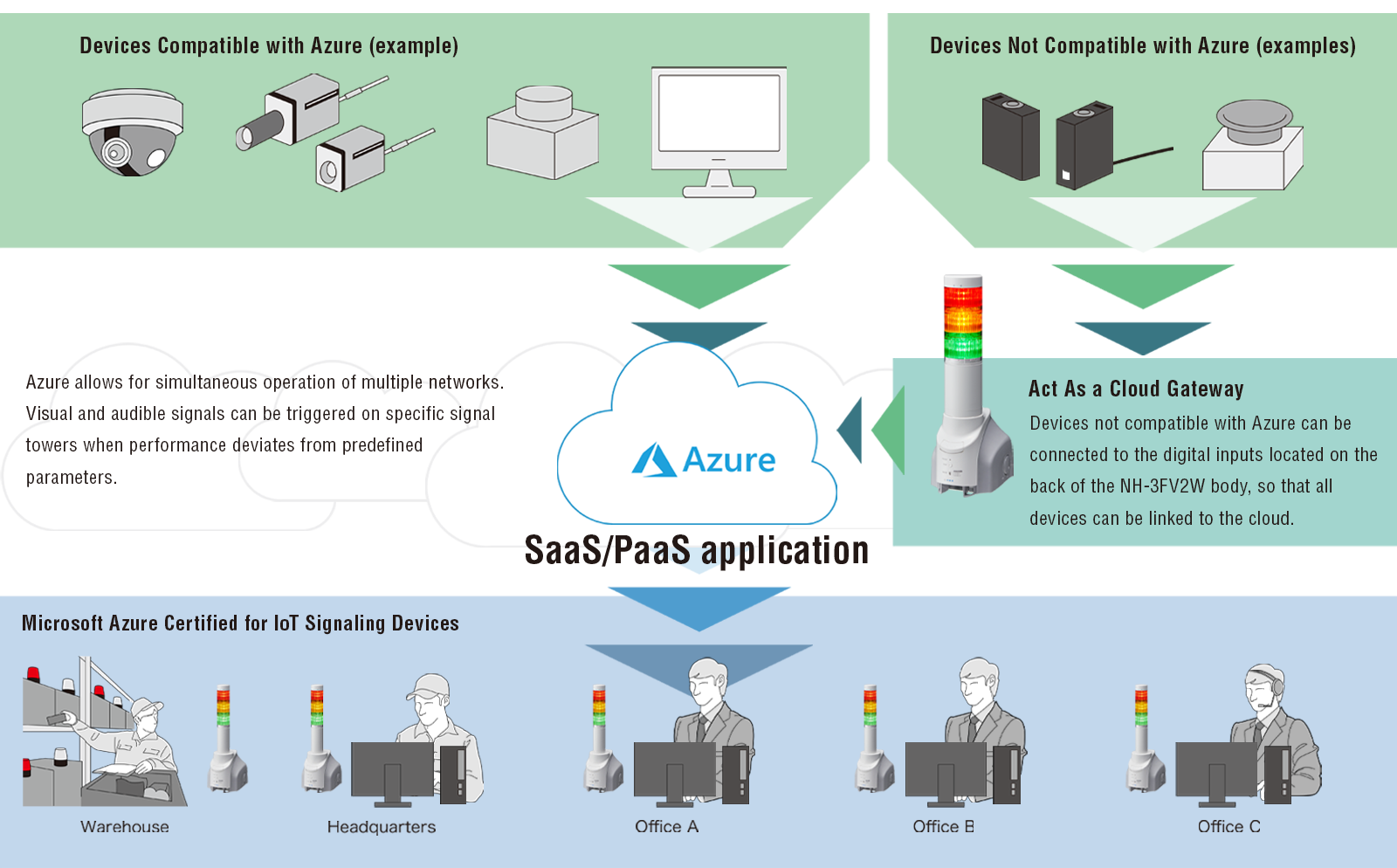 Collection of NH-3FV2W light data in the cloud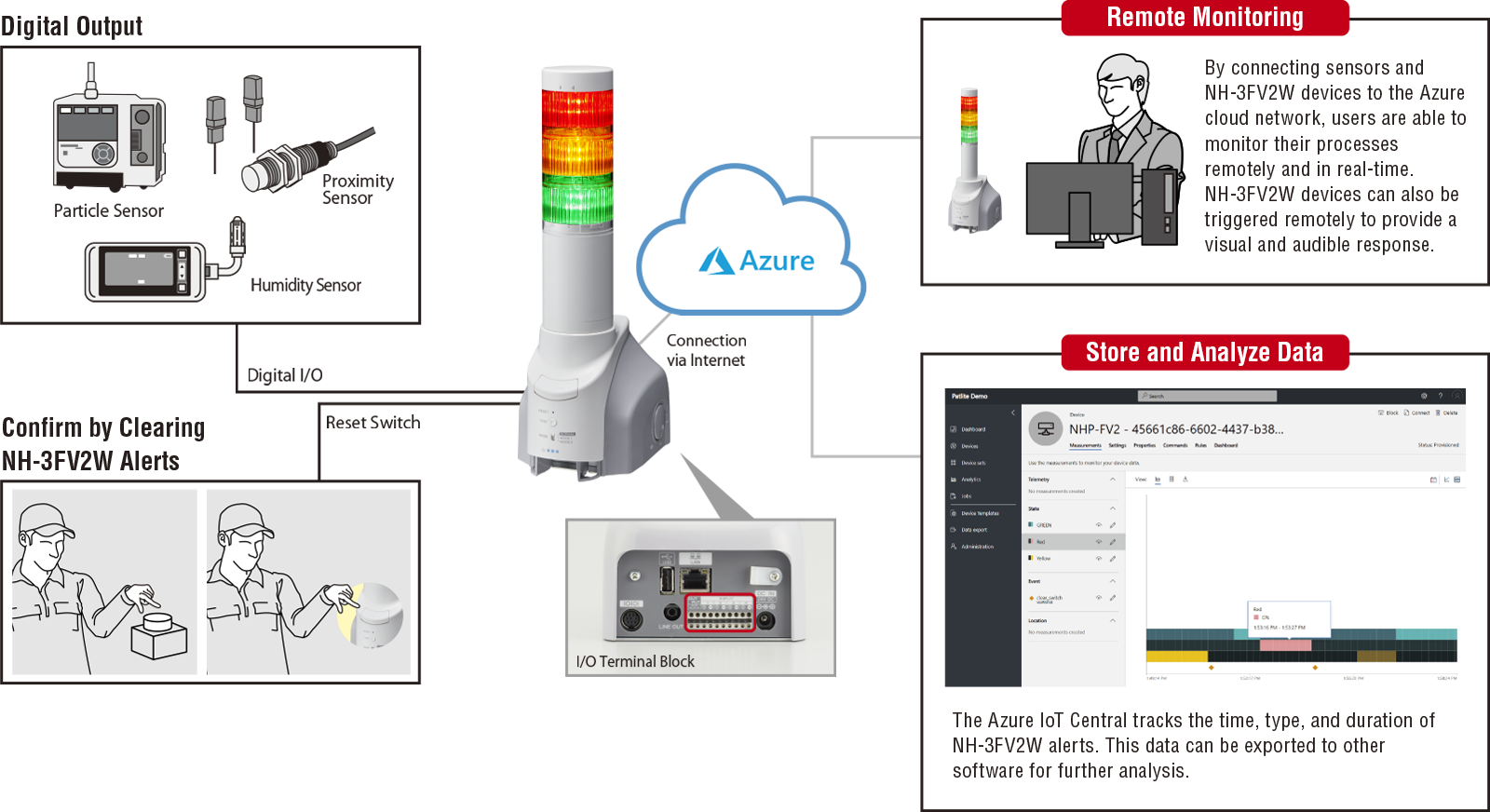 *Microsoft Azure is a registered trademark of Microsoft Corporation in the United States and other countries.
Compatible models
Current models
Discontinued models
Supported firmware
Firmware version: 1.12 or later The latest firmware can be downloaded here.
Microsoft Azure operating procedures
(instruction manual)
Please confirm "Microsoft Azure operation procedure (instruction manual)" when operating Azure.
Downloadable from here.